The Iowa Environmental Mesonet (IEM) collects environmental data from cooperating members with observing networks. The data are stored and made available on this website.
IEM Daily Feature
Late for First 70+
Posted: 23 Apr 2018 05:35 AM, Views: 443
Tags:
2018
It was like a miracle occurred and temperatures were above average on a Sunday for much of the state, well sans the areas still with some pesky snow cover left. Des Moines hit 70+ for the first time this year. With the date being 22 April, this was one of the latest dates on record for the site as shown by the featured chart. The chart compares the first date of hitting 70+ for the high temperature and the number of days that year at or above that level. Having such a late date does not doom the season total as this level is hard to be under with most of the summer season.
Previous Years' Features
Williams (I-35), IA Webcam:
View other webcams
News Items
Current Website Performance:
Bandwidth: 6.0 MB/s
Requests/Second: 1,293
RADAR Products
The IEM processes National Weather Service NEXRAD information in real-time to produce and archive many products. This includes a generated composite produced every five minutes dating back to 1995!
Precipitation
Besides point observations of precipitation, the IEM also processes gridded rainfall products made available by NOAA. This information is archived and made available in GIS ready formats.
Current Data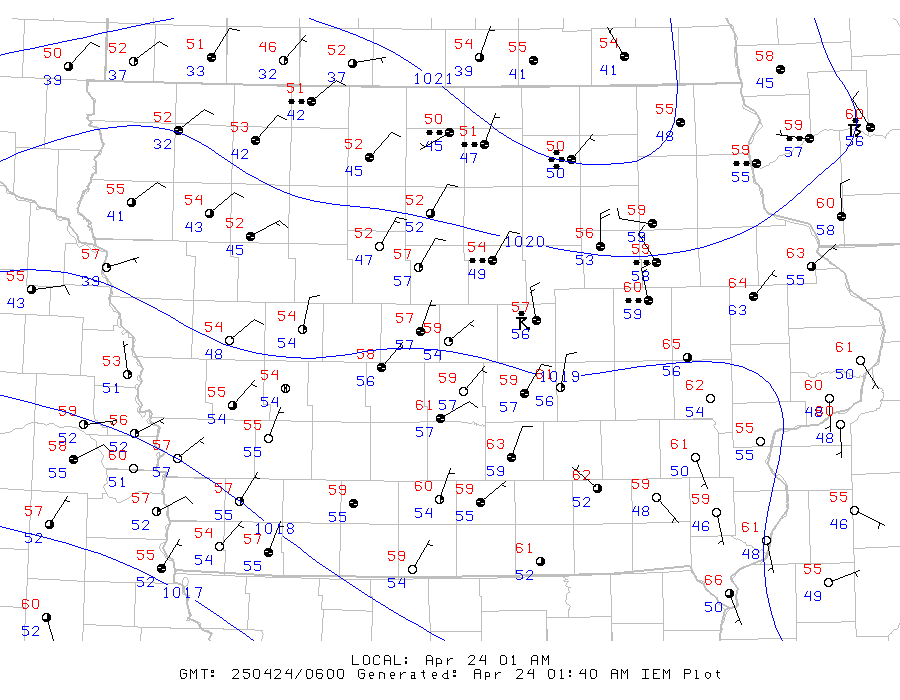 The IEM combines data from participating networks into products like maps shown above and web applications to analyze the data.